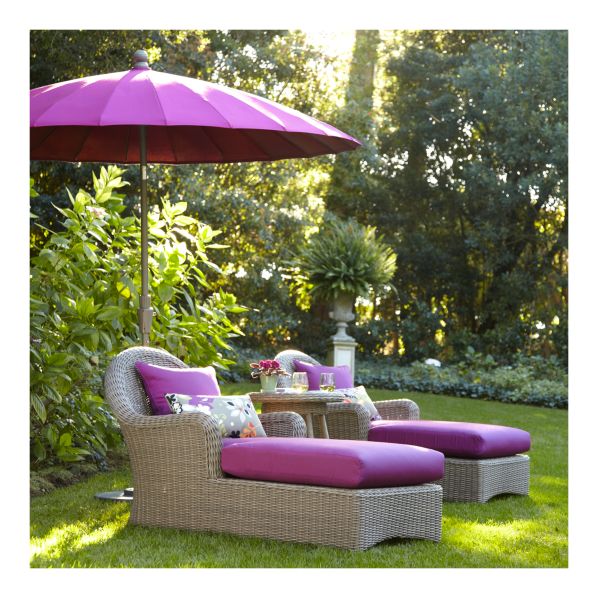 June is the official kick-off for summer…at least in my books. The weather is hot enough to break out those cute, little shoes you've been holding onto since Winter. It's time to get that new haircut and of course, it's always all about accessories! So here are my summer must-have's for the month of June! Let me know what you think and feel free to share your favorites with me!
My thing right now is that I'm all into hosting and having people over! With a huge deck in our home and empty space to decorate, I think it's best to have awesome and fun patio furniture to enjoy on these hot, summer days.
A patio item that makes my heart skip a beat (ha) is this amazingly cute chaise lounge from Crate & Barrel. It's made of 100% recyclable weave, which means rain or shine, it can handle any weather! It's made in Indonesia and retails for $1,199.
Then when you're hosting, everyone always has to have a yummy drink in their hands. And what better way to serve your guests than with a fun…and non-breakable glass; therefore you don't have to worry about the kids running around! This cute set retails for $31 at Target and can be purchased online as well. The colors are tinted, soft and contemporary – a perfect match for whatever your summer decor may be!
The next thing on my mind when it comes to summer is traveling; so why not travel in style! Macy's, to me, is the best place to get your traveling needs fulfilled! They have a very cute Amy Butler set that I went gaga over at Macy's, which is from her 
Supernatural
 collection.
The bags in the collection range from  $150-$360, but think about the sturdiness which is going to come hand-in-hand with the price. Of course when we think of summer, the list is endless. Of course we can talk make-up, clothes, accessories, but let's save that for another time!